.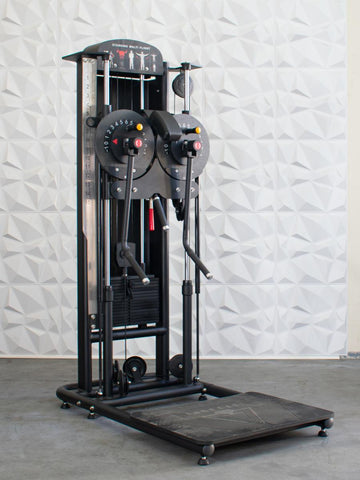 Flight Trainer Machine
FEATURES
 Isolates deltoids, pectoral, and back muscles
 Magnetic Selector pin
 Workout charts display exercises
TECHNICAL DETAILS
 Multifunction machine with well over 12 exercises.
Bilateral and Unilateral arm motions.
Carriage with cams has height adjustment with counterbalanced arms and gas assisted, easy lifting action.
 Features 360 range of motion on each arm.
Multiple starting angle adjustments.
Cam delivers an even load throughout the exercise motion.
Cushioned headrest allows great positioning for rear deltoid, lat, and chest crossover exercises.
Spacious foot platform for anatomically correct multiple body positioning.
SPECIFICATION
Width: 31in/79 cm
Length: 56 in/142 cm
Height: 78 in/198 cm
Weight: 560lb/254 kg
Weight Stack(in 10lb increments) 160 lb/73 kg